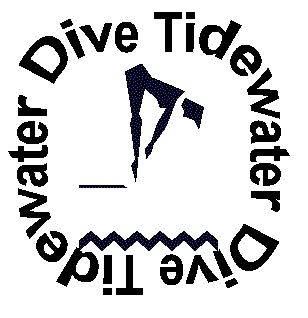 | | |
| --- | --- |
| Tuesday | 6:30 - 8p at ODU |
| Thursday | 6:30 - 8p at ODU |
| Sunday | 4:30 - 7p at ODU |
We feel it is very important to be prompt and ready for every practice!

And donít forget to bring your tennis shoes and something to drink to every practice.
Diving Fees (Payable to ODU)
| | |
| --- | --- |
| 1 day per week | $90.00/ session |
| 2 days per week | $125.00/ session |
| 3 days per week | $160.00/ session |
Team Fees (Payable to Dive Tidewater)
These fees are due every session.
They help us pay for club fees, and basic business expenses.
The fee every session is $10.00.
Crazy Month!
March was very busy with increased practices and preparations for the Spring Regional meet. All of our team members did a great job throughout the month of Mach and we are looking forward to getting prepared for a busy summer of diving competitions.
New Practice Times
Our third session of 2003 begins April 22, 2003. During this session we are cutting back on the number of practices per week to three. We will continue practicing on Tuesdays, Thursdays and Sundays throughout the session.
Five divers go to Spring Regionals
On the weekend of April 4 - 6, 2003, five Dive Tidewater members attended the Spring Region III US Diving Meet in Huntersville, NC. It was a action packed three days with plenty of good diving. The team was led by Lara Beth Elder who placed 8th on 1 meter and 9th on 3 meter. Also attending the meet were Noah Scully, Oleg Black, Christina Schleyer, and Shannon Marriner. We were very proud of team's performances and are looking forward to the Summer Regional meet in July!
Summer Schedule
The summer schedule for diving competitions is in the work. Hopefully in about a week, we will have the schedule solidified for the summer. Check back on the NEWS page for more information in the next few days!
AAU Fees & US Diving Fees
Because of the cost of membership, Dive Tidewater has decided to offer two national memberships for diving this year. AAU fees start in September of each year and runs through August and the fees are listed below. Many of our team members have already joined AAU this year. USA Diving begins in January and runs until December. We feel offering both forms of membership is the best way to protect our athletes. See the chart below. If divers attain a certain level of proficiency, we will have them join USA Diving as a J.O. Diver only. Dive Tidewater will be registered as a club with both AAU and US Diving this year. Chad and Amy will also be certified as US Diving coaches.
AAU Fee
USA Diving Fee
Membership (Athlete)
$10/ year
$50/ year for Nov., Int.
$75/ year for J.O.
Membership (Coach)
$12/ year
$150/ year
Club Fee
$30/ year
$100/ year
Payment Information
Thank you everyone for being so prompt with your sessions payments. Just a reminder..........All checks for the diving practices at ODU need to be made out to ODU.

If you are making a quarterly fee payment, you need to make the check payable to Dive Tidewater - Thanks!
*********************
Check out Spring Regional Results!!!