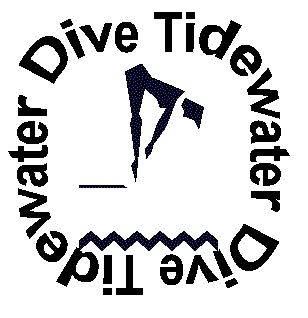 | | |
| --- | --- |
| Monday | at Norfolk Academy 4:15-6pm |
| Saturday | 5 - 7p at ODU |
| Sunday | 5 - 7p at ODU |
We feel it is very important to be prompt and ready for every practice!

And donít forget to bring your tennis shoes and something to drink to every practice.
Diving Fees (Payable to ODU)
| | |
| --- | --- |
| 1 day per week | $50.00/ month |
| 2 days per week | $80.00/ month |
| 3 days per week | $120.00/ month |
Team Fees (Payable to Dive Tidewater)
These fees are due every three months.
They help us pay for club fees, and basic business expenses.
The fee every 3 months is $30.00.
The next fee is due for most on April 1st.
Dive Tidewater joins AAU!
Due to the outrageous increases for fees for USA Diving, we have decided that we will join AAU. This will provide an additional coverage for our age-group diving team. The fees for membership in AAU are considerably less than those of USA Diving. See the chart below. If divers attain a certain level of proficiency, we will have them join USA Diving as a J.O. Diver only. Chad, Amy and Brooke will pay for registration as USD coaches but we will not register our team this year.

AAU Fee
USA Diving Fee
Membership (Athlete)
$10/ year
$50/ year for Nov., Int.
$75/ year for J.O.
Membership (Coach)
$12/ year
$150/ year
Club Fee
$30/ year
$100/ year

Dive Tidewater takes 4 to JO Regionals
Four of our teams' divers attended the Winter J.O. Regional diving meet in Chapel Hill, NC. All of our divers performed well in their age-groups. We are looking forward to bring more team members to the Summer J.O. Regional competition in July. For results from the meet click HERE.

Busy Summer Schedule
Because of the many meets we are planning to attend this summer, we are trying to make some changes regarding summer practices (click HERE to look at the summer schedule). Almost all of the meets are going to be held on Saturdays so practicing on Saturdays will be impossible. We are thinking of practicing on Sundays at ODU and two days a week (not sure what days yet) at Norfolk Academy, either from 5 - 7p or 6 - 8p. Please give us some feedback regarding these changes so we can make it work best for everyone. In addition to doing AAU and US Diving meets this summer, it may be possible to do some summer league diving with our Princess Anne team. We need provided we can get approval from the club. We will let you know if it works out soon!

Quarterly Fees, US Diving Fees, & AAU Fees
Dive Tidewater has decided to have all of our members join AAU this year. Membership fees are $10/ year (September 1 - August 31). This will allow you to compete in any AAU sanctioned diving competition. If you are ready to compete at the J.O. level in US Diving, we will have you join, the cost is $75 for the year (January 1 - December 31). Joining USD is great if you are interested in competing at the national level, AAU is better for competing at the local level. And, membership in either association provides each athlete with some supplementary insurance in case of injury.

Payment Information
Thank you everyone for being so prompt with your monthly payments. Just a reminder..........All checks for the diving practices at ODU need to be made out to ODU.

If you are making a quarterly fee payment, you need to make the check payable to Dive Tidewater - Thanks!
*********************
Check out the Meet Results!!!