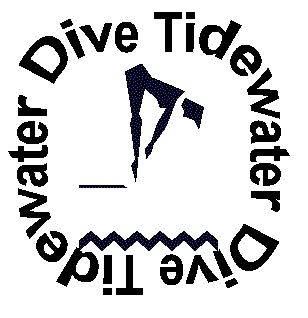 | | |
| --- | --- |
| Tuesday | 6:30 - 8p at ODU |
| Thursday | 6:30 - 8p at ODU |
| Sunday | 4:30 - 7p at ODU |
We feel it is very important to be prompt and ready for every practice!

And donít forget to bring your tennis shoes and something to drink to every practice.
Diving Fees (Payable to ODU)
| | |
| --- | --- |
| 1 day per week | $90.00/ session |
| 2 days per week | $125.00/ session |
| 3 days per week | $160.00/ session |
Team Fees (Payable to Dive Tidewater)
These fees are due every session.
They help us pay for club fees, and basic business expenses.
The fee every session is $10.00.
Gearing Up for the Summer!
Now that May has arrived, it's time to start thinking about the summer meet schedule. The link for the schedule is listed below. Please let Amy and Chad know what meets you are planning to attend. We are really looking forward to the summer and having our team members show off their new skills!
New Practice Times
Our third session of 2003 begins April 22, 2003. During this session we are cutting back on the number of practices per week to three. We will continue practicing on Tuesdays, Thursdays and Sundays throughout the session.
Summer Schedule
The summer meet schedule is now posted, click on this LINK to check it out. Mark your calendars and prepare to attend some of these meets. We took quite a few athletes to meets last year and they really enjoyed them. Remember the old saying, "the more the merrier!"
AAU Fees & US Diving Fees
Because of the cost of membership, Dive Tidewater has decided to offer two national memberships for diving this year. AAU fees start in September of each year and runs through August and the fees are listed below. Many of our team members have already joined AAU this year. USA Diving begins in January and runs until December. We feel offering both forms of membership is the best way to protect our athletes. See the chart below. If divers attain a certain level of proficiency, we will have them join USA Diving as a J.O. Diver only. Dive Tidewater will be registered as a club with both AAU and US Diving this year. Chad and Amy will also be certified as US Diving coaches.
AAU Fee
USA Diving Fee
Membership (Athlete)
$10/ year
$50/ year for Nov., Int.
$75/ year for J.O.
Membership (Coach)
$12/ year
$150/ year
Club Fee
$30/ year
$100/ year
Payment Information
Thank you everyone for being so prompt with your sessions payments. Just a reminder..........All checks for the diving practices at ODU need to be made out to ODU.
If you are making a quarterly fee payment, you need to make the check payable to Dive Tidewater - Thanks!
*********************
Check out Spring Regional Results!!!