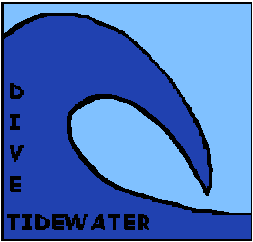 | | |
| --- | --- |
| Tuesday & Friday | 7:30 - 9p |
| Saturday | 1:30 - 3:30p |
We feel it is very important to be prompt and ready for every practice!

And donít forget to bring your tennis shoes and something to drink to every practice.
Diving Fees
(Payable to Dive Tidewater)
| | |
| --- | --- |
| 1 day per week | $75.00 per session |
| 2 days per week | $100.00 per session |
| 3 days per week | $125.00 per session |
Congrats to Chris, Mark, & Kyle!
Chris , Mark, and Kyle traveled to Delaware on St. Patrick's Day weekend to compete in the annual Riptide Invitational. All three boys competed on 1-meter and 3-meter and did a great job. It was an exciting trip.......little snow, little ice (and one big chunk of it), a horrible hotel, and some good diving.
Dive Tidewater Invitational
The team will be hosting it's annual Dive Tidewater Invitational on Saturday, May 12th this year. We would like as many of our team members to compete as possible. Please let Chad know if you will be able to participate. Also, we will need lots of help to make this happen. Parents, please contact Chad if you are available to help out. For more information about the meet, click HERE
There are some meets coming up this summer that we would like to attend. We are currently putting together a summer schedule. Below are a couple of dates to mark on the calendar;
June 1st - 3rd - AAU N.C. Games @ Huntersville, NC
June 29th (Friday) - Rip It Classic @ Bon Air Rec in Richmond
July 14th (Sunday) - Summer Meet in Richmond (TBA)
MORE TO COME
Thank you everyone for being so prompt with your monthly payments. Just a reminder..........All checks for the diving session need to be made out to
Dive Tidewater - Thanks!