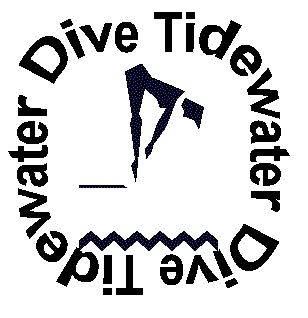 | | |
| --- | --- |
| Saturday | 4:45pm - 7pm |
| Sunday | 4:45pm - 7pm |
We feel it is very important to be prompt and ready for every practice!

And donít forget to bring your tennis shoes and something to drink to every practice.
Diving Fees (Payable to ODU)
| | |
| --- | --- |
| 1 day per week | $90.00/ session |
| 2 days per week | $125.00/ session |
Team Fees (Payable to Dive Tidewater)
These fees are due every session.
They help us pay for club fees, and basic business expenses.
The fee every session is $10.00.
The New Schedule is here!
We've tentatively planned the schedule for the beginning of 2004. We will be starting the weekend of January 10th. Notice that all practice days are on the weekend.
High School Diving
High school diving is in full swing right and several of our divers are involved in competitions and are performing well. Due to the quickly ending high school season, there will be a variety of high school competitions held at ODU. On those days we will not be able to hold practice. Please check the calendar for exact days.
AAU starts again
We ask all of our team members to join one of the two national organizations in order to protect them with insurance. For those of you who are new or competed AAU last year, the AAU year begins September 1st so it is now time to send in our applications. We will have the applications available at our first practice.
AAU Fees & US Diving Fees
Because of the cost of membership, Dive Tidewater has decided to offer two national memberships for diving this year. AAU fees start in September of each year and runs through August and the fees are listed below. Many of our team members have already joined AAU this year. USA Diving begins in January and runs until December. We feel offering both forms of membership is the best way to protect our athletes. See the chart below. If divers attain a certain level of proficiency, we will have them join USA Diving as a J.O. Diver only. Dive Tidewater will be registered as a club with both AAU and US Diving this year. Chad and Amy will also be certified as US Diving coaches.
AAU Fee
USA Diving Fee
Membership (Athlete)
$12/ year
$50/ year for Nov., Int.
$75/ year for J.O.
Membership (Coach)
$12/ year
$150/ year
Club Fee
$30/ year
$100/ year
Payment Information
Thank you everyone for being so prompt with your sessions payments. Just a reminder..........All checks for the diving practices at ODU need to be made out to ODU.
If you are making a quarterly fee payment, you need to make the check payable to Dive Tidewater - Thanks!