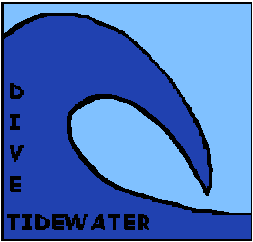 | | |
| --- | --- |
| Tuesday & Thursdays | 7:30 - 9p |
| Saturday | 4:45 - 7p |
| Sunday | 1 - 3p |
We feel it is very important to be prompt and ready for every practice!

And donít forget to bring your tennis shoes and something to drink to every practice.
Diving Fees (Payable to ODU)
| | |
| --- | --- |
| 1 day per week | $60.00 per session |
| 2 days per week | $90.00 per session |
| 3 days per week | $120.00 per session |
| 4 days per week | $150.00 per session |
Team Fees (Payable to Dive Tidewater)
These fees are due every session.
They help us pay for club fees, and basic business expenses.
The fee is $10.00.
We attended the J.O Regional meet at the University of North Carolina during the weekend of June 25-27th. Three divers had an opportunity to get some great meet experience and learn what USD is all about. Ashley Earls dove in the 16-18 one-meter competition and finished with a score of 155.15. Chris Murphy dove in the 14-15 one-meter event and finished with a score of 179.45. And our last diver, Sean Murphy, dove in the 11 & under event and placed 11th with a score of 98.20. Congrats to all of the participants!!
Congrats to Lara Beth!
Lara Beth also dove at the Regional meet. She was able to win the three-meter event and finish 3rd in the one-meter event. Great job Lara Beth!
There are several US Diving and other competitions in the month of July. For a calendar, please click HERE. Some of the meets included are; the Rip It Classic on July 9th, the Princess Anne Invite on July 15th, and the Southern VA Champs on August 1st. Hopefully, some of our divers will take the opportunity to compete!
Thank you everyone for being so prompt with your monthly payments. Just a reminder..........All checks for the diving camps (practices) need to be made out to ODU.

If you are making a team payment, you need to make the check payable to Dive Tidewater - Thanks!