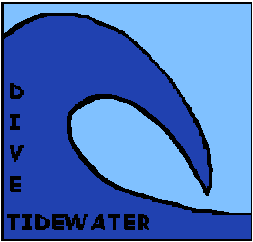 | | |
| --- | --- |
| Tuesday & Thursdays | 6:30 - 8p |
| Saturday | 4:45 - 7p |
| Sunday | 4:45 - 7p |
We feel it is very important to be prompt and ready for every practice!

And donít forget to bring your tennis shoes and something to drink to every practice.
Diving Fees (Payable to ODU)
| | |
| --- | --- |
| 1 day per week | $60.00 per session |
| 2 days per week | $90.00 per session |
| 3 days per week | $120.00 per session |
| 4 days per week | $150.00 per session |
Team Fees (Payable to Dive Tidewater)
These fees are due every session.
They help us pay for club fees, and basic business expenses.
The fee is $10.00.
Congrats to team members that dove at Regionals!
The Murphy clan (Chris, Kelly, and Sean), Ashley, and Mike D. all had great performances at the Indoor Regional meet in March. Our divers performed well and got some valuable experience by competing in such a high level competition. Also, special thanks to Mike, Anne, Penny, and Erin for supporting the team with their attendance and making the meet a lot of fun for all!
Meet in May
We are hoping to host a meet at ODU during the month of May. With a little help and support from the university, I think the meet will be a great success. if you would like to volunteer to help during the meet, please contact Chad. We are looking forward to seeing our divers show their stuff!!
Because of the cost of membership, Dive Tidewater has decided to offer two national memberships for diving this year. AAU fees start in September of each year and runs through August and the fees are listed below. Many of our team members have already joined AAU this year. USA Diving begins in January and runs until December. We feel offering both forms of membership is the best way to protect our athletes. See the chart below. If divers attain a certain level of proficiency, we will have them join USA Diving as a J.O. Diver only. Dive Tidewater will be registered as a club with both AAU and US Diving this year. Chad and Amy will also be certified as US Diving coaches.
AAU Fee
USA Diving Fee
Membership (Athlete)
$12/ year
$50/ year for Nov., Int.
$75/ year for J.O.
Membership (Coach)
$12/ year
$150/ year
Club Fee
$30/ year
$100/ year
Thank you everyone for being so prompt with your monthly payments. Just a reminder..........All checks for the diving camps (practices) need to be made out to ODU.

If you are making a team payment, you need to make the check payable to Dive Tidewater - Thanks!