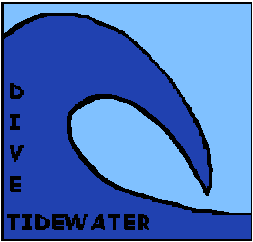 | | |
| --- | --- |
| Saturday | 4:45 - 7p |
| Sunday | 4:45 - 7p |
We feel it is very important to be prompt and ready for every practice!

And donít forget to bring your tennis shoes and something to drink to every practice.
Team Fees (Payable to Dive Tidewater)
These fees are due every session.
They help us pay for club fees, and basic business expenses.
The fee is $10.00.
It's almost Fall and now time to get back into the swing of things. We are excited about our new session which will begin on Saturday, September 11th at 4:45p. This session will last for 6-weeks and our plan is to conclude the session with a one day Diving Camp on Sunday, October 17th. We will be posting more information about the Camp in October (we are still working out the details!).
Divers finish the summer
Chris and Sean Murphy and Ashley Earls finished the summer with solid performances at the Southern Virginia Championship meet at the Country Club of Virginia. All of the divers finished first in their respective categories and performed well. Thanks to all of the divers and their parents for their help and enthusiasm during our AWAY summer meets!
Thank you everyone for being so prompt with your monthly payments. Just a reminder..........All checks for the diving camps (practices) need to be made out to ODU.

If you are making a team payment, you need to make the check payable to Dive Tidewater - Thanks!
Fee Information
Diving Fees (Payable to ODU)
| | |
| --- | --- |
| 1 day per week | $90.00 per session |
| 2 days per week | $120.00 per session |